Whoa, whoa, whoa …. WAIT! Before you winterize that RV, look at some other options! While others are stowing their campers and gear, others are heading out for more camping adventures. The seasonal differences bring about tremendous experiential variations, such as:
Fewer campsite neighbors.
Shorter lines at restaurants and attractions.
Earlier sunsets.
Cooler temperatures.
Colorful nature displays.
Cozier campfires.
Longer hours to star gaze.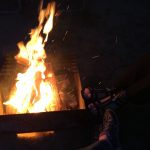 Go ahead! Take in the autumn festivals, the less crowded trails, and some snowy adventures like snowshoeing, snowmobiling, cross country skiing, and even downhill skiing.
Many campgrounds along I-70 and I-25 stay open for travelers but, yes, you can actually still go "destination camping" in the off-season, sometimes all year!
Find them by going to our campground search page and choosing which month you're planning to go. The map will then show you the campgrounds that are open at least part of that month. From there, check on availability and fees by contacting each campground that looks appealing (if they have online reservations, the link is shown in the tab marked Websites, Social Media, Ratings & Reviews).
A few such destinations are:
This list is merely a sampling of opportunities. In Colorado, you can go camping each off-season weekend and not run out of new places to camp.
NOTICE:  Sometimes the RV sites are winterized, while other lodging options remain in full service so always check with the campground to make sure the accommodations you're expecting are available.
Please also consider these tips in our earlier blog. They could make your cold-weather camping more enjoyable.
Go ahead! Head on over to our campground search page and start making your autumn and winter camping plans!
Happy Camping!