Many Colorado campgrounds are open all year, such as Base Camp at Golden Gate Canyon (shown here). Whether you're heading out for a wild winter adventure or are just wanting some peace and quiet, here are some safe ways to create nice winter camping memories.
Water:  RVers need to keep hydrants and the RV's plumbing safe from the winter elements.
Use heat tape, coiled around the hydrant and hose.
Keep in mind that the heat tape that might be supplied by the campground on their hydrant and your heat tape on your hose should not touch the thermostats of the other.
Some then add foam insulation. Shorter hoses are usually easier to keep from freezing.
Outside water filters are challenging so consider faucet filters for your winter travels.
If you get up in the night, consider running your hot and cold faucets for a few seconds to prevent ice buildup.
Thinking of the old household practice of leaving your faucets dripping? That adds a lot to your holding tanks, and many campground water systems simply can't handle the constant drips of numerous faucets throughout their campground. It is better to keep a supply of water on hand, and when you have finished your dishes and showers, turn off the water and disconnect the hose or drain the pressure off of it.
If your unit's fresh water holding tank is within the insulated portion of your RV, it should stay well above freezing.
Propane:  Monitor the weather and your propane supply. Don't get caught running out! It's even best to not run low because some weather systems have been known to cause power outages, and propane dispensing stations usually require some electricity.
Waste Water:  Let's not overlook the sewer system.
Since all things flow best going downhill, if your sewer line is going downhill, and has no low spots, it might be OK without heat tape.
Drain your tanks when it's warmer out. The valves are usually kept in the closed position until you're ready to drain the holding tanks, but they can become frozen in the closed position in extreme cold.
Heat tape could be helpful near the valves, if possible.
Keep Heat In:  Your own interior comfort might be enhanced if you cover your skylights and ceiling vents. Heat rises and it easily escapes through these thin areas. You can buy special products for this purpose, or use small tension rods or even duct tape to secure pillows into those areas.
Learn to quickly climb in and out of the rig, minimizing the exchange of cold and warm air.
Bubble wrap can also help insulate windows and doors. Just make sure you always have easy access to your emergency exits!
Don't use propane or kerosene heaters in your RV! Electric heaters also come with risks, so know what maximum wattage can be handled by consulting both your RV's manual and the campground's owner.
Skirting the RV is also an option to consider. Check with the campground owner to learn their policies.
Other ideas for your comfort:
Dress appropriately, and in layers.
Keep your gloves handy.
Use flannel sheets.
Use a small fan to blow warm air to colder areas.
Keep windows covered, unless the sunlight is beaming in to provide additional warmth.
Use area or throw rugs.
Use the campground's restroom and shower house more and your facilities less.
For your own safety, don't overlook these:
Get fresh air into the RV when you can because you don't want the buildup of carbon monoxide.
Maintain your batteries.
Moisture inside the RV can create its own problems so don't boil water any longer than necessary and limit your showers.
Have your furnace inspected before the weather turns chilly. Remember that RVs aren't necessarily built for constant living, so your furnace fan motor might not last very long.
Again, don't use propane or kerosene heaters in your RV!
Camping is an all-year opportunity in Colorado, and Camp Colorado makes it easy for you to locate campgrounds that are open: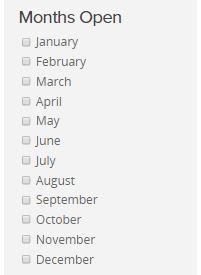 Go to Find a Campground.
Check the month that you're planning to camp.
Choose your choice of accommodations (RV vs rental cabin or even tent, if you're really hearty).
The map will then show you your options.
Consider each listing, research, and contact one or several to learn about availability and fees.
Most parks have limited services from autumn through spring. Their office hours are usually shorter, their activities are often minimal at best, and they're crowds are considerably smaller. Usually that's exactly what the winter camper is seeking!
(Camp Colorado greatly appreciates the insight that was provided by Falcon Meadow RV Campground near Colorado Springs. Having served campers for three generations, they've experienced Colorado winters and have learned so much from many successes and a few failures of many of their year-round campers.)