Camping with your 4-legged furbabies can bring great joy when it's done properly. Here are some tips to help you achieve happy pet camping memories.
---
Often overlooked, yet extremely helpful in the worst conditions, is a photograph of you with your pets, such as this example, and stow it safely in your mobile device AND in your RV, glovebox or someplace easily accessible during your travels. This helps to prove your ownership, and it can be used when seeking assistance in finding a lost pet.
Think worst case scenario:  there's an emergency weather condition and, panicstricken, the dog flees in the midst of it. The few seconds it takes to click a picture now could save you a lot of frustration later.
Remember, it's easier to prepare than to regret!
---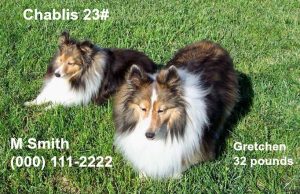 Take pictures of each individual pet (or at least one shot of all of them). Again, stow it safely in your RV, glovebox or someplace easily accessible during your travels. We hope you never need to have it but you will be glad you have it if it's needed.
Use a photo editor to add its name, weight, and special markings or features and your mobile number.
---
Know and have documentation of your pet's health. Carry proof of rabies shots.
---
Confirm that your pets will be welcome at each place you plan to camp. Understand their pet policies, fees and any other obligations you're committing to. If you aren't in agreement with them, move on to the next campground rather than trying to convince the owner to make an exception. Most policies are in place for a reason, and their other guests are in acceptance of the policies. Making exceptions could upset the others, so most owners don't make exceptions.
(Remember, for every camper who is frustrated that a no-pet policy exists stands other campers who appreciate it. Ditto for every camper who is glad to find a pet-welcoming park! We never wanted to stay where we weren't understood. There's a right place for everyone!)
---
Use a collar, preferably with your cell phone number engraved on either it or on a tag on the collar.
---
Have and use a 6′ leash. Those retractable ones aren't always welcomed at busy campgrounds, often because of their insurance liability contract. Also have the ability to tether the pets when you're sitting outside, perhaps tethered to your owning support or the step into the RV. Tent campers usually need a stake.
---
Carry sufficient supply of their food and water. Bowls, too!
---
Carry plenty of clean-up bags, since nature happens. Please dispose of these in the appropriate dumpster (not the recycling bin or in the bathroom!).
---
We have traveled extensively with pets, and my first such outing made me so glad I had beach towels with me. It taught me to carry their own bath rags and their shampoo because that dog was NOT getting back in our vehicle caked in mud!
---
At the campground, be sure to use the pet areas. Some campgrounds offer off-leash pet areas for accompanied romping around and ball chasing. In our RVing journeys we saw some that were merely 8′ x 8′ and others that were probably best measured in acreage!
---
Be sure to NOT use the playground or other restricted areas. Typically, pets are not allowed in the office, in the shower and bathhouse, and in the rec hall.
---
The last point we'll make is a bit more challenging. What can you do with pets when you're sightseeing or dining out? Some campgrounds don't permit the pets to be left unattended. Others allow it so long as the pet is contained and quiet. When we traveled with two shelties, we were grateful that this method worked (when we camped at places that permitted it):
Ensure the pets have been fed and have water.
Ensure the RV is climate controlled.
Close the blinds (we also put pillows across the back of the sofa since one of our shelties had a magical nose for lifting blinds).
Turn on the stereo to drown out the sounds from outside (people walking by while talking can easily create a barking fiasco for some pets).
Lock the door quietly as you leave, and walk away quietly (one of us would sometimes start the car and drive a site or two away while the other stayed behind to do the last minute locking).
Leave a light for when you return, and approach the RV quietly.
---
Our search page offers the ability to search for PET FRIENDLY campgrounds as well as campgrounds that have a DOG PARK.
This publication is supported by funding from the Colorado Tourism Office, a state agency. Turn to Colorado.com for a comprehensive list of festivals, events, historic areas, itineraries, and community insight.