Think of Colorado and most people think of nature. Nature conjures images of wildflowers. Wildflowers bring forth vibrant Colorado landscapes!
From cityscapes to alpine meadows, Colorado comes alive in spring and summer. Actually, it stays colorful in an all new way for autumn, especially in the aspen groves, but we'll save that for later. Right now, with winter still fresh in our minds, we're savoring the idea of melting snow and colorful columbines, phlox, bluebells, and much more.
Have you driven the Alpine Loop Scenic Byway? It's in the vicinity of Silverton, Ouray and Lake City. The folks at Silver Summit RV Park shared these pictures with us, and told of how they've seen columbines for as far as the eye can see!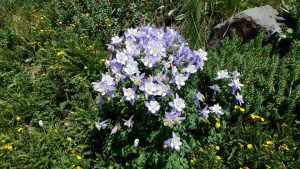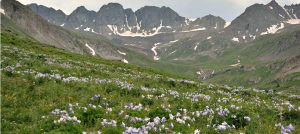 Mind you, park the RV and rent an off-road vehicle! For onsite Jeep rentals, we suggest campers and RVers stay at Highlander RV Campground (Lake City).
Once you handle that then get ready to be torn between looking at the vast mountains or at the splendid wildflowers. Plan high elevation wildflower treks for July because they might still be in winter mode if you get there too soon.
As for those April showers that bring May flowers (possibly mixed with a late snow storm), that is more for the Front Range and the Western Slope regions. (The picture at the top of this page was provided by Riverview RV Park, looking across the Big Thompson River and toward the campground.)
You will find an abundance of colors everywhere you look!
For example and as told in this blog by Visit Colorado, Willow Creek Trail in Roxborough State Park, near Denver, is where you'll likely see "Canada violet, larkspur, golden banner and chiming bells, poppy mallow, orchid penstemon, sego lily, American vetch, cinquefoil, Drummond milkvetch, purple milkvetch, sulphurflower, tall scarlet paintbrush, orange paintbrush, scarlet gaura, white gilia, scarlet gilia, prairie coneflower, copper mallow, spring beauties, silvery lupine, birdfoot violet, purple prairie flower, white prairie flower, green gentian." Whoa! What a list!
Honestly, due to the abundance of wildflower varieties and the vast elevation changes across the state, Colorado campers and RVers can find vibrancy most months of the year. For example, in May, one can drive from higher elevations where early spring dandelions are just popping up into a lower terrain where the trees are filled with leaves and the early summer blooms are reaching the tops of fences.
While you enjoy colorful Colorado, we ask you to leave no trace. Please leave the wildflowers in place. Enjoy them with your eye. Perhaps gingerly step close enough to smell the fragrance. Beyond that, just let your camera capture the rest.
If you're a wildflower enthusiastic, consider also checking out these links:
The next colorful Colorado blog will be for your Fall Foliage trip (stay tuned in a few months for that).
OUR SEARCH PAGE MAKES IT EASIER TO SEARCH FOR CAMPGROUNDS.
This publication is supported by funding from the Colorado Tourism Office, a state agency. Turn to Colorado.com for a comprehensive list of festivals, events, historic areas, itineraries, and community insight.