In an earlier blog post, we introduced the eight regions of Colorado. This time we'll visit the area known as Canyons & Plains region (shown in tan in the southeast portion on the map).
THE REGION
This southeastern region of Colorado borders Kansas, Oklahoma and New Mexico. To the west, it blends into both the Pikes Peak Wonders and the Mystic San Luis  Valley regions. To the north it blends into the Pioneering Plains region.
Many know Colorado is home to hundreds of high mountain peaks, 58 of which are classified as 14ers (at least 14,000′ above sea level). The state is large, ranked as the eighth largest state. Yet, there's large section of Colorado that surprises many travelers. About half of the state is plains or flatlands. High plains, but plains nonetheless!
The Great Plains of our country start west of the Mississippi River and rise up into the High Plains. They climb gradually but steadily for hundreds of miles before they abut the front range, which of course shoots upward forming the majestic Rocky Mountains.
Interestingly, "Colorado is the only U.S. state that lies entirely above 1000 meters elevation." (according to Wiki). To say it another way, 3,315 feet above sea level is our lowest spot, and that's where the Arkansas River flows on into Kansas, east of Lamar Colorado. (The Arkansas River is depicted in this photo from Wiki, which is properly accredited.)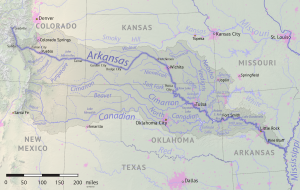 Some of this land is well suited for farming and ranching, while other stretches are so arid that it basically remains untouched. "On a clear spring day, a sharp observer can still discern the wagon-wheel ruts of the Santa Fe Trail wending their way across the prairie." (From the CO-DOT description of the Santa Fe Trail).
Communities of this region are rather rural. Trinidad, Lamar and La Junta have 7,000 – 8,000 residents, while Fowler is closer to 1,000 people. Others have even fewer, such as Campo with about 100 residents.
NATIONAL HISTORICAL INTEREST
In the vast open plains, if you didn't know better you might drive right through this area and not have a clue what you were seeing. So we'll point them out for you.
"Bent's Old Fort National Historic Site features a reconstructed 1840s adobe fur trading post on the mountain branch of the Santa Fe Trail where traders, trappers, travelers, and the Cheyenne and Arapaho tribes came together in peaceful terms for trade." (~National Park Service)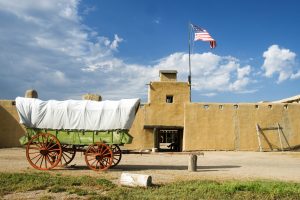 Boggsville National Historic Site "Pioneer life of the Old West comes alive…. Stand in the wagon tracks of the Santa Fe Trail and follow the paths of Kit Carson, Clay Allison, Chief Black Kettle and Wild Bill Hickock as you tour the area." … "Boggsville was founded in 1862 by Thomas O. Boggs and was the last home of the famous frontier scout Kit Carson." (~ the linked website)
Granada Relocation Center National Historic Landmark is of more recent history. "Camp Amache was one of 10 centers constructed in the United States during World War II for the purpose of interning Japanese Americans and people of Japanese descent." (~National Park Service)
Rourke Ranch National Historic Site "When the ranch was sold in 1971, it was known as one of the oldest and most successful enterprises in southeast Colorado, expanding from Eugene's original settlement of 40 acres to well over 52,000 acres. Rourke Ranch is now a National Historic District." (~ USDA Forest Service)
INDIGENOUS AMERICANS
Sand Creek Massacre National Historic Site "8 Hours that changed the Great Plains forever … The Sand Creek Massacre: profound, symbolic, spiritual, controversial, a site unlike any other in America. Chaotic, horrific, tumultuous, and bloody, the events of November 29, 1864 changed the course of history." (~ National Park Service)
Sierra Vista Interpretive Site "For Santa Fe National Historic Trail travelers … their guiding landmarks was the distant Spanish Peaks, which came into view along this section of the trail. A short walk up the side of a bluff will give you a commanding view of the Rocky Mountains and surrounding prairie. A view very similar to that seen by early travelers. Hikers and horseback riders can follow a 3-mile section of the Santa Fe National HistoricTrail to Timpas Picnic Area." (~USDA Forest Service)
GRASSLANDS
"The Comanche National Grassland in southeastern Colorado encompasses nearly 435,000 acres with expanses of short prairie grass that extend for miles in all directions, pristine Canyonlands … along with an abundance of diverse wildlife. The area draws its name from the Comanche who, along with the Kiowa and Arapaho, lived and hunted these lands prior to European settlement." (~ the linked website)
PREHISTORIC HISTORY
'Picketwire Canyonlands "These primitive canyons in the Comanche National Grasslands are home to the largest dinosaur tracksite in North America. Over 1,900 prints in 130 separate trackways extend across a quarter mile of bedrock along the banks of the Purgatoire River." (~ USDA Forest Service) We'll also add this link (click here).
TRINIDAD HISTORY
Trinidad History Museum "Explore Trinidad's past and its place in the American West at the Trinidad History Museum. The museum features several attractions on one block in Trinidad's acclaimed historic district." (~ the linked website)
El Corazon de Trinidad National Historic District "It is the largest county in Colorado, and fifth largest in the continental U.S. … There is abundant wildlife (deer, elk, bear, mountain lion, etc.) ideal for wildlife watching, fishing, and hunting." (~ the linked website)
SIGNATURE ATTRACTION
Those who find the Koshare Indian Museum (koe-SHAR-ee), create deeply embedded memories. "The Koshare Museum traces its history back to the bottom of the Great Depression. During this time, a group of Boy Scouts became interested in Native American heritage.  …  the scouts and those that followed assembled an impressive collection of Native American and Western arts and artifacts. A tour of the museum … provides an inspiring story of the potential of our youth."
WILDLIFE & HIKING TRAILS & FISHING
In the way of wildlife, you might see badgers, prairie dogs, roadrunners, and collared lizards.
When it comes to birds, here's a Bird species list (PDF) from John Martin Reservoir. Click here for a list of birding trails in the area.
As for fish, you might see largemouth bass, blue and channel catfish, walleye, crappie, bluegill, brown and rainbow trout, walleye, saugeye, wiper, perch, and tiger muskies. This Fishing Atlas might come in handy, and please be sure to have your proper fishing license!
OUTDOOR SPORTS
The Canyons and Prairies region offers golf, archery, tarantula watching (yes, you read that correctly!), boating, fishing, and watersports.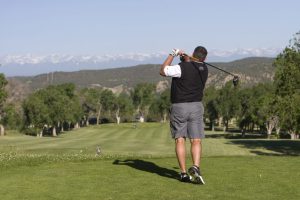 FESTIVALS
The art world comes alive in Trinidad for the award winning art car festival, ArtoCade! In 2019, this annual event brought in "100 artfully kooky conveyances arriving from around the nation. Trinidad's historic downtown will be filled with a wondrous array of art cars. With that many parade entries ArtoCade follows only Houston as the second largest art car event in the nation with other long established events in major cities like Seattle, San Francisco, Tulsa, Minneapolis and Chattanooga on the list." (~ the linked website)
High Plains Snow Goose Festival "Like nothing you've seen before… Witness the great snow goose migration." (~ the linked website)
WORDS OF WISDOM
You can learn even more about this region by clicking and reading this, written by the Colorado Tourism Office.
If you click on each link provided in this blog post, you will find much more historical and entertaining information!
Those who book early have the best chance of finding campsite availability, especially for summer weekends and holidays.
During winter blizzard conditions, it's common for rural stretches of roadways to close until conditions settle enough for the maintenance crews to do their job.
Be sure to monitor conditions on COtrip for the current road conditions. Construction, hail, snow, ice, rain … Colorado can see all of it even in one day!
Know and obey the CO-DOT regulations for the height, length and weight of vehicles on each road you plan to take.
CAMPING
So, where should you camp in colorful Colorado? It depends on the month of your trip and your camping preferences from what amenities you desire to your means of lodging (tent, RV, cabin, yurt, lodge, tepee, covered wagon, glamping safari tent, or any other means of enjoying the outdoors). Since there are many other factors to consider, we created CampColorado to help you find a campground that suits your desires. The search page offers a range of options, and many listings provide in-depth descriptions.
The Colorado Tourism Office provides additional travel ideas in the regions in this post.
---
This publication is supported by funding from the Colorado Tourism Office, a state agency. Turn to Colorado.com for a comprehensive list of festivals, events, historic areas, itineraries, and community insight.