Bighorn sheep is nearly synonymous with Colorado. About 7,000 of them have made their home in our state's beautiful mountains. They find rock climbing to be an all-time favorite activity, and the Rocky Mountains provide a lot of opportunity!
When is the best time to find them? The best viewing, any month of the year, is in the mornings and late afternoon. As you can see in some of these pictures, they're not always easy to spot because they can blend in with the background.
Where can you find them? In more places than we can outline! But the most prevalent areas are in canyons (you'll notice these pictures were taken int eh Poudre Canyon, at CanyonSide Campground).
A short distance to the south is the Big Thompson Canyon, leading from Loveland to Estes Park. It's common to see them grazing along the side of the road. They've been known to cause more than a few traffic jams!
You'll also see them in the gorgeous canyon created by the Arkansas River between Cañon City and Salida, in the area known as the Royal Gorge.
Travel farther west between Gunnison and Montrose, in the Black Canyon of the Gunnison National Park, and you just might spot some!
Another very popular place to view them is within the Colorado National Monument, in western Colorado near the Utah border.
CAUTION: Those who are traveling in any of Colorado's canyons or winding roads, we ask that the driver focus on the road rather than the wildlife, and be very careful going around bends. No one wants any harm to come to them as they stand in the roadway!
When searching for a campground near these gorgeous creatures, study this map and see whether any of these communities work for your Colorado camping vacation (in the order the regions were mentioned above):
Bellvue (west of Fort Collins)
Loveland (north of Denver, east of Estes Park)
Estes Park (west of Loveland)
Cañon City (southwest of Colorado Springs)
Coaldale (west of Cañon City)
Buena Vista (north of Salida)
Gunnison (east of Blue Mesa Reservoir)
Montrose (west of Blue Mesa Reservoir)
Fruita (west, along I-70 near Utah)
Grand Junction (west, along I-70 near Utah)
On a lighter note, our mascot is Ramsey Campin'Ram and he galivants all around Colorado!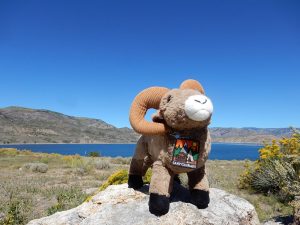 ---
Our Find a Campground page makes it easier to narrow the list of campground to those which best suit your preferences.
From this link you can order a copy of our Camp Colorado Guide or download a PDF of it.
---
This publication is supported by funding from the Colorado Tourism Office, a state agency. Turn to Colorado.com for a comprehensive list of festivals, events, historic areas, itineraries, and community insight.