Recently we had the pleasure of reading the Historic Hot Springs Loop fieldguide post by Colorado.com  For the benefit of the camping enthusiasts who follow us, we chose to translate it into a hot springs themed camping trip.
So, by all means, please enjoy their itinerary of stops to make and the cuisine to savor, and get out and enjoy the activities they outlined, but consider replacing their lodging options (fine as they are!) with our camping suggestions.
But first, "camping" is a broad term. To some it means tent camping, to others it means an RV site, and to another group it means renting a cabin, yurt, tiny house, park model, or an onsite RV (to name a few options). Don't let the name of the campground fool you. Just because it might not indicate that it has those rental options, it just might. So click each link to study the options until you see your "home" for the night.
Now, back to the hot springs itinerary.
Day #1 of the 5 day trip places you in Buena Vista for your campsite. Consider the following:
Day 2 takes you to Pagosa Springs. For that night, the campground we suggest that's closest to town is Pagosa Riverside Campground.
If you're going to slow down and turn this 5-day trek in a delightfully drawn out excursion, then don't overlook the option of Sportsman's Campground & Mountain Cabins. It's farther north, outside of town, but we found it to be quite an amazing drive!
Day 3 lands you in Ouray for the night. We suggest:
Day 4, already? My goodness, this trek is flying by! We hope you slow down and do this in many more days than 5. Regardless, this next stop has you in Glenwood Springs. You'll find many options to consider at Glenwood Canyon Resort.
Day 5, the final day, puts your head on your pillow in Steamboat Springs. We suggest Steamboat Springs KOA.
While you traveled Colorado, took in some outdoors adventures, and sampled some local flavors, what we really hope you most remember is that theming your Colorado trip is a very cool way to travel!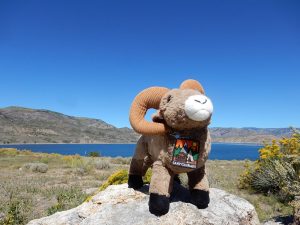 Now that we've studied this itinerary so closely, we're thinking our own Ramsey Campin'Ram needs to give it a try!
This publication is supported by funding from the Colorado Tourism Office, a state agency. Turn to Colorado.com for a comprehensive list of festivals, events, historic areas, itineraries, and community insight.